Solar Wind Induction Street Light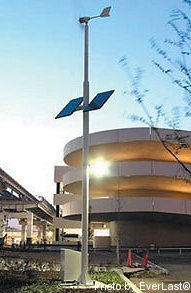 The Solar Wind Induction Street Light performs under all conditions using two natural resources - sun and wind. Two polycrystalline photovoltaic panels, in concert with a 300 watt wind turbine, charge a fully protected deep cycle battery of 12 or 23 Volts. The energy saving induction light is sensor controlled to conserve even more energy and provide the perfect amount of light for any outdoor setting.
Off the grid!

No ugly over-head lines.

Low maintenance design.

Fast and simple installation.
Induction Lighting makes this green technology possible. This compact free standing, fully contained lighting system will save money by requiring no outside energy source. It is perfect for remote areas and places where wiring is difficult. It also makes a statement in public areas of serious stewardship of our environment and its resources.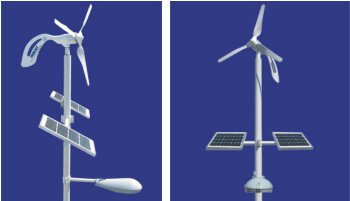 Specifications
Battery System
Volts: 24 Volts
Battery Description: Sealed AGM 210 Ah
PVW Hybrid Controller: Included
Over-Speed Protection: Yes
Low-Voltage Protection: Yes
Over-Voltage Protection: Yes
Solar Module
Type: Monocrystalline
Max. Output Power: 175W (1) / 350W (2)
Voltage at Max. Power: 35.2V
Current at Max. Power: 4.95A (1) / 10A (2)
Open-Circuit Voltage: 44.6
Short-Circuit Current: 5.2
Wind Turbine
Rated Output Power: 500 Watts
Max. Output Power: 6000 Watts
Rated Wind Speed: 12.5 m/s
Rated Rotation Speed: 900 rpm
Start-up Wind Speed: 2.3 m/s
Cut-In Wind Speed: 3 m/s
Rotor Diameter: 8.5 ft.
Blade Material: Fiber Glass
Governor System: Yaw System
Shut-Down Mechanism: Electromechanical

Lamp
Street Lamp 70W Bi-Level Cobra or Shoe Box induction Fixture
Lamp Life Rating: 100,000 hours
Lumen Maintenance: 70% over 100,000 hours
Light Output: 5000K, 82-85 CRI
IP Rating: IP65

PVW Checklist PDF
Legal Notice: Full Spectrum Solutions owns proprietary rights in the EverLast® Remote Induction Area Light in the form of pending patent applications in the US and PCT applications for International protection.