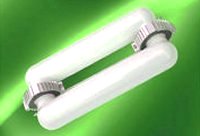 Retrofit and replace common lighting with
ultra-energy-efficient Induction Lighting
Compact integrated structure, for many small size lighting fixtures.

Special magnetic hoop structure, effectively avoids magnetic leakage and magnetic core power loss, with perfect heat dissipation.

Special ferrite magnetic core, maintains the magnetic core inductance, stable in wide temperature range; unique B-H curve, reduce the magnetic hysteresis loss and magnetic core loss.

Special, eco-friendly amalgam, for instant-start and enhanced stability in a wide range of temperatures.

Self-developed inert gas formula, ensures consistency of light efficiency and power.

Unique ballast designed for induction lighting, improves power factor.

Special winding technology, improves low temperature start ability.

Full range of color temperature, a variety of power options.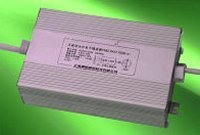 External Ballast Included [Specifications] PDF
Shell Material: Aluminum
Power: 40 to 500 Watts
Voltage: 120 to 277V
Frequency: 50 / 60 Hz
Power Factor: >0.96
Lamp Specifications [PDF]
| | | | | | | |
| --- | --- | --- | --- | --- | --- | --- |
| Power | 40W | 60W | 80W | 100W | 120W | 150W |
| Luminous efficiency (lm/W) | 65-70 | 65-70 | 70-75 | 75-80 | 75-80 | 75-80 |
| Initial luminous flux(lm) | 2600-2800 | 3900-4200 | 5600-6000 | 7500-8000 | 9000-9600 | 11250-12000 |
| | | | | | |
| --- | --- | --- | --- | --- | --- |
| Power | 200W | 250W | 300W | 400W | 500W |
| Luminous efficiency (lm/W) | 80-85 | 80-85 | 85-90 | 85-90 | 85-90 |
| Initial luminous flux(lm) | 16000-17000 | 20000-21250 | 25500-27000 | 34000-36000 | 42500-45000 |
| | |
| --- | --- |
| Color temperature: 3500/4000/5000/6500 K Color rendering index: >80 | |