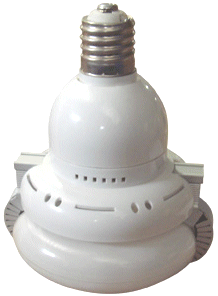 Rated 60,000 Hours - 5 Year Warranty
Compact integrated structure, match for all kinds of small size lighting fixtures, and performs lighting effects of different spatial places.

Threaded lamp base easily retrofits all kinds of compact lamps.

Special magnetic hoop structure, effectively avoids magnetic leakage and magnetic core power loss, provides efficient heat dissipation.

Special ferrite magnetic core, maintains the magnetic core inductance, stable in wide temperature range; unique B-H curve reduces the magnetic hysteresis loss and magnetic core loss.

Eco-friendly amalgam inside for less pollution

Specially formulated amalgam is well suited for instant-start features and stability characteristics in a wide range of temperature.

Forward technology powers faster starts and better stability.

Proprietary inert gas formula ensures the consistency of light efficiency and power.

Unique compact ballast technology improves the power factor.

Special winding technology improves low temperature start ability.

Full range of color temperature and a variety of power options.


UL Listed.
Specifications

For base down applications only

Watts
Volts
Rated Lumens
Pupil Lumens
Lamp Size (in.)
40
120/220/277 VAC
12/24 VDC
2800
4950
6.5 x 7.1
50
120/220/277 VAC
12/24 VDC
4500
9450
6.5 x 7.9