ECOsmarte Chemical-Free
Pool and Spa Water System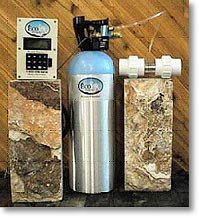 ECOsmarte pool and spa water systems provide chemical-free crystal clear water with less maintenance and expense than any other system on the market today. Pool and spa owners no longer have to experience the problems of burning eyes, dried out hair, toxic odors, cloudy water and the aggravation of fluctuating chemical levels. All of this goes away along with the time and expense of purchasing chemicals.
Read the news...
Reuters: WORKING NEAR CHLORINE POOLS TIED TO LUNG PROBLEMS PDF
Clear Benefits
Saves time, requiring only a few minutes each week to properly maintain the water quality
Saves money by eliminating the continual purchase of chemicals and decreasing operating costs - less than $1 per month.
Saves energy, pool pumps can be operated only 6-12 hours per day.
Saves the environment, filter backwash water is not harmful like water treated with chlorine or salt.
Far healthier than chlorine, salt or other chemical sanitizers. Does not burn eyes, dry skin, or damage hair and swim wear.
Does not produce toxic fumes or annoying odors and tastes.
Eliminates scaling and stains caused by calcium and chemicals.
Easily installed by the homeowner or a pool professional in less than thirty minutes.
The ECOsmarte systems have very low operating costs - less than $1 per month.
All ECOsmarte pool and spa systems carry a Five Year Warranty and a 60-Day Money-Back Guarantee.