River Recovered
Heart Pine and Cypress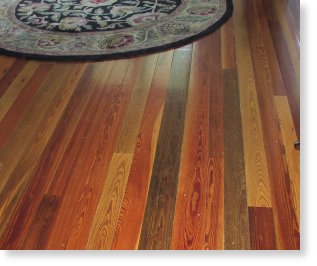 Lumber and planks from the old growth forests of the Southeastern United States are highly sought after for their density, versatility and lately, their rarity. Until recently, the only source of this wood was salvage from old buildings. Thanks to new technology, dense old growth Heart Pine and Cypress logs can now be recovered from river bottoms in the Southeastern United States.
Back when the old growth forests of Georgia and Florida were being logged, the loggers would float their logs down river to the mill. Many of these logs sank to the depths of these rivers before reaching their destination. These logs are now being recovered, offering many advantages over wood salvaged from old buildings. They have not suffered the wear and tear of time or the abuses of nails and bolts. The lack of light and oxygen under the cool waters has prevented normal rot and deterioration. And because the entire log is recovered, wood can be milled according to customer specifications.
Item Number: CW-RR*

Price: Quoted
Solid plank flooring and paneling, cants, timbers, beams, moulding and stair treads. Custom orders are welcome.
Own a piece of history!