Solar Powered Attic Fan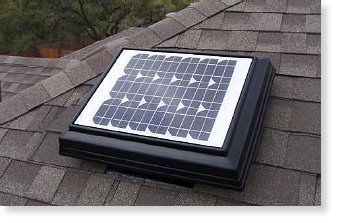 The Most Powerful Solar Powered
Attic Fan in the World!
Heat gain through the roof, attic and ceiling is the primary cause for hot houses. Air conditioning can offset the heat gain, but at what cost? Soffit and ridge ventilation can never remove enough hot air from the attic to prevent heat gain and they do nothing to protect your attic from moisture and resulting mildew. Regular insulation does not reject radiant heat, it absorbs it, heating up to become a radiator itself, passing heat gain to ceiling and walls.
The solution is our Solar Powered Attic Fan. On at dawn, it begins to exchange the air in your attic even before the daytime sun begins to beat on the roof. It works silently all day long at such a rate that heat-gain and loading is all but eliminated. Attic temperatures are drastically reduced, with as much as 30% savings in Air Conditioning. In winter months, when humidity levels are highest, the circulation provided by the Solar Powered Attic Fan ensures a dry attic.
Curb Mount



Designed for curb mount installations on flat or very low slope roofs. Recommended for high profile roofs like ceramic tile.

Remote Panel



Option available for all fans. It makes an existing penetration or hole in the roof usable, regardless of orientation to direct sun exposure.

Self Flash



Designed to slide under an existing roof. Made for sloped low profile roof installations like composite shingles.

Turbine Retrofit



This solar fan unit is designed to fit the base assembly of any 12" wind turbine.

Gable Mount



Designed to replace Gable Vents in an attic. Retrofit or New Construction.