Marmoleum Click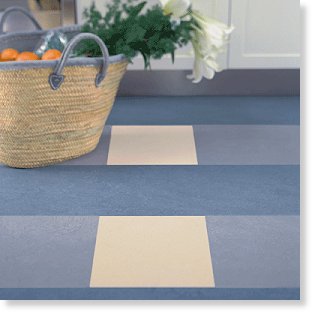 Marmoleum Click is the perfect floor for those who want the durability and cleanliness of Marmoleum, but who wish for a unique design for their floor. It comes in 12" x 36" panels or 12" x 12" squares. Its unique construction with the patented click system, combined with a broad colour palette, give you a natural floor with maximum design freedom.
Marmoleum Click is a high-quality product and the ideal flooring for most rooms in the house, from the hallway, kitchen and children's rooms, where traffic is likely to be heaviest, to the living room, study or bedroom. The only places it's not suitable for are 'wet' rooms like the bathroom or sauna.
Marmoleum Click floor is easily installed. A simple tongue-and-groove system allows you to simply 'click' the panels into place. Marmoleum click panels are nice and wide, so a good smooth floor is quickly finished. And no glue is required, so the floor can be walked on immediately after installation.
Looking for a new floor?




Marmoleum is the Natural Choice


Ecologically produced from natural raw materials; linseed oil, pine rosin, and wood flour.
Extremely hygienic, clean and bacteriostatic.
Very comfortable, with sound reduction.
Creative; Design your own floor. Combine Colors, Tiles and Panels
Easy to install with a simple In & Out system. No messy glue.
Practical and very durable; dent resistant, stain resistant, fade resistant, antistatic.
Indoor Air Quality


A dust-free house is healthier for asthma patients suffering from dust mite allergy. The floor is an important factor, because lots of dust can build up there. Marmoleum is therefore a solution because it is easy to keep dust-free. Laboratory studies have also shown Marmoleum to be both anti-static and bacteriostatic: micro-organisms do not thrive easily on it, which makes the floor naturally hygienic.