Golf Clubhouse Tiles
Clubhouse Tiles feature a unique dowel-rod fastening system for easy installation and quick movement or replacement. With adhesive-free or fully adhered installation options, tiles can even be placed over existing floor surfaces to save valuable time and money. ProShop tiles are manufactured with concentrated recycled material and an innovative pedestal underside to easily route cables beneath the surface, while delivering superior ergonomic comfort.

24" (61cm) x 24" (61cm) x 1" (25mm)


Noise and shock resistant


Sound and shock absorbent


Spike resistant


Modular


Adhesive-free or fully adhered installation


Can contribute up to 8 points toward LEED certification
Item Number: ER-Golf-Pro

Price: Quoted
More Information

Golf Products PDF
-----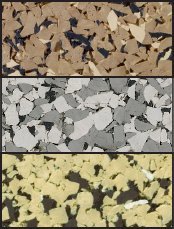 Sand Bunker Tan
Gravel Grey
Sun-Dried Mulch

Eco-Rubber is manufactured using recycled rubber, reducing pollution from landfill and incineration.