Golf Facility and Landscaping
The durability and cushioned resilience of Golf Path Pavers allows for the creation of practical, comfortable, and visually stunning landscaping. Dense recycled rubber composition not only contributes toward environmental sustainability, but easily supports the weight of heavy traffic of golf carts and spikes, without retaining significant damage or wear. The easy installation and low maintenance of Golf Path Paver tiles makes them a practical addition to the landscape of any golfing facility.

Available in 1-3/4" full pavers or 7/8" split pavers.


Slip resistant, wet or dry.

Superior shock absorption.

Ideal for outdoor applications!
Can be loose laid or fully adhered. Transition edging is available. Can be cut with a band saw or utility knife.
Dimensions
Thickness/Weight
7-3/4" (20cm)
x 6-1/4" (16cm)
x 4-3/8" (11cm)
7/8"- (21.5mm)
1.17 lb/pc
1-3/4"- (43mm)
2.49 lb/pc
Item Number: ER-Golf-PathPaver

Price: Quoted
More Information

Golf Products PDF
-----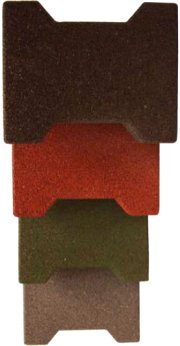 Available in
Black, Terra Cotta Red,
Forest Green, and Sand

Eco-Rubber is manufactured using recycled rubber, reducing pollution from landfill and incineration.