«Back Autoclaved Aerated Concrete Next»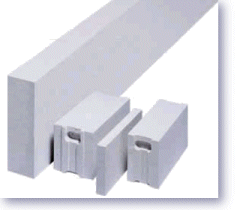 For nearly 70 years, Autoclaved Aerated Concrete (AAC) has proved its superior quality in all areas of building construction and in virtually all climatic conditions throughout the world. AAC buildings are inherently fire resistant (2 to 4 hour rating), pest resistant, moisture resistant and energy efficient. The raw materials - quartzite sand, lime and water - can be found in almost unlimited quantities throughout the world. These raw materials are then processed to provide a building material with a large number of air pores - aerated concrete. And it is precisely these pores in addition to the solid structure of calcium silicate hydrates which give AAC its exceptional product properties: high compressive strength, excellent thermal insulation, low material weight, ease of workability and handling, universal application, non-allergenic, and efficient construction. Available in block or panel formats. Can be used for walls, roof and floors.
Environmentally-friendly and energy-conserving, AAC meets all the requirements of our modern age. Absolutely no pollutants or hazardous wastes are generated in the process and there is no waste of precious raw materials. Pure AAC, not containing any foreign materials, can be recycled into other useful products. Even the production method conserves energy since steam curing is carried out at high pressures and thermal energy is recovered and reused for maximum efficiency. Production trimmings can also be fully recycled, again making AAC a highly efficient and environmentally compatible building material.
Item Number:
BE-AAC

Price: Quoted
Click the Small Images
for a Larger View


AAC Panel


Hotel


School


USF Residence Hall