Residential In-Duct UV Air Purifier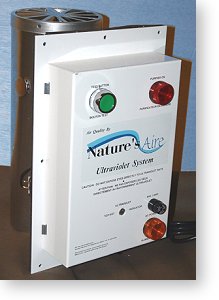 Natures Aire Systems Ultraviolet Air Purifiers will destroy bio-chemical contaminants such as mold, mildew, fungus spores, formaldehyde, carbon monoxide, solvents and secondhand smoke. Additionally, these Air Purifiers will also irradiate viruses and bacteria such as legionella and tuberculosis.
The Bio-150 & Bio-350 are ideal for installation into the existing ductwork.
Perfect for ASTHMA & ALLERGY sufferers!
Item Number:
AC-NatAir-Bio

Unit of Issue: Each
Prices are for equipment only. Please contact your local A/C contractor for installation pricing.
Residential In-Duct UV Air Purifier - Bio 150
Item Number:
AC-NatAir-Bio150
Eco-$mart Price: Quoted
Quote
Residential In-Duct UV Air Purifier - Bio 350
Item Number:
AC-NatAir-Bio350
Eco-$mart Price: Quoted
Quote
The Patented ProcessMore Details