Storm Catcher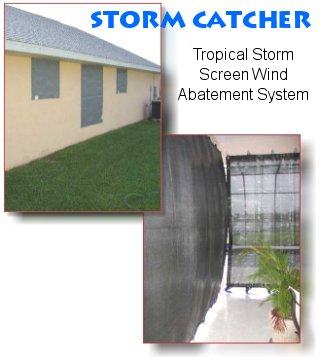 The Storm Catcher is a lightweight, geo-synthetic fabric used to protect buildings from hurricane force winds and flying debris. It is ideal for protecting large openings such as lanais, store fronts, windows and entranceways. Storm Catcher is also an ideal way to cover garage doors as an alternative to the cost of replacing with a hurricane door.
The Storm Catcher is approved by the Florida Building Code engineered to be a low-cost alternative to shutters and other storm protection systems. It is made of a material similar to Kevlar, which is used to make bullet-proof vests. The Storm Catcher is the first new development in hurricane protection in over 10 years.
Due to its light weight, the screen can be installed by anyone. Most applications require no special tools or heavy lifting. When combined with the Smart Trax mounting system, it provides a simple and attractive means of installing hurricane protection on your home without changing your home or building's appearance.
Available in five colors:

Colors will vary with screen & printer. See your Eco-$mart Representative for a physical sample.