Enersol Solar Pool Heating Kit
40 and 48 Square Feet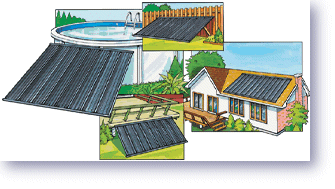 The ENERSOL solar pool heating system is simple, clean, easy to install, virtually maintenance free, and most importantly - it works. The ENERSOL solar heating collector panels are designed to last a lifetime. They are made of synthetic rubber that exhibits incredibly resistant properties to prolonged exposure to heat, cold weather conditions, ozone, pool chemicals, air pollutants and physical abuse. 15 year warranty.
One kit includes four 1' x 10' collector panels, headers, lag bolts, straps and clips. Add one Enersol Solar Pool Heating System Kit(SolPool-Enersol-SystKit) for each home. Installation instructions and video come with the system kit, and are available on line at www.enersol.com.
ENERSOL panels do not scale, rust, craze and crack, thus providing a designed-to-last proven durability. The panels are modular in design for easy installation. The system can be controlled manually (SolPool-Enersol-ManControl) or automatically (SolPool-Enersol-AutoControl) and can be placed on the ground or roof. The 1' wide panel sections make optimum use of roof space. In addition, custom lengths (other than 10' long) can be ordered to use all of your available south facing roof area.
Enersol is Canada's oldest and largest solar pool heating manufacturer, in business since 1979. This system is truly the most cost effective and easy to maintain solar pool heating system on the market.
Click the Small Images
for a Larger View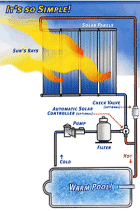 Click Here to view
Kits and Controllers.