Eco-rubber Stone Pavers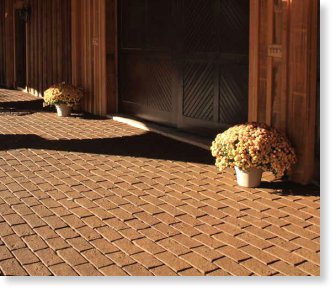 Item Number: PVR-RT-

Unit of Issue: Sq Ft

Price: Quoted
Providing Beautiful Solutions to Environmental Pollution
Made from Recycled Rubber from discarded car and truck tires.
Manufactured with the look and durability of stone.
Non-toxic and environmentally safe.
Eco-Rubber Stone Pavers have the look and feel of stone, but are light weight and easy to install. They have the strength, longevity and durability of stone as well, with the added bonus of being environmentally sound.
| | |
| --- | --- |
| Cobblestones functional design provides excellent durability and slip resistance in high traffic areas. Designed to look as beautiful as real stone yet provide amazing comfort under foot. | Flagstones The realistic look, texture and durability of Eco-Rubber Flagstones matches that of real stone, making them perfect for paths, steps,patios, and residential playgrounds. |
| Pathstones provide excellent flexibility in design. Perfect for natural landscapes where nature often changes the route of pathways and walks. | Tilestones Unique fabrication provides surprising comfort, a safe, non-slip surface and unmatched durability. Easy to install tile design is excellent for high traffic areas. |