Solar Street Light Systems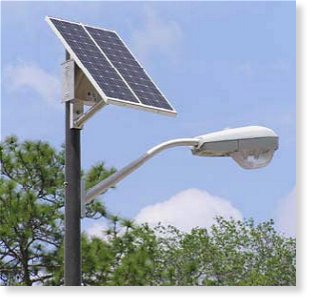 The Solar Street Light System is designed for easy installation with plug-in components that work together to be the most efficient solar street light system for your location and requirements. Components are sold seperately, or integrated into a complete street light package that is ready to install. Off the grid light source is perfect for remote locations.
High Strength Composite Pole


Lighter than wood or traditional concrete yet rated for 150 MPH winds. Environmentally friendly manufacturing and application.

LED Cobra Head


Use up to 50% less energy than traditional metal halide fixtures and maintain virtually all their luminosity for the 10+ year life of the light, significantly reducing replacement and maintenance costs.
Solar Electric Power Assemblies


Riveted aluminum frames and welded mounting brackets prove durable in harsh conditions. Enclosed wire harness with liquid tight plug-in connection make installation fast and easy.

Solar Street Light Systems


Systems can be sized specifically for your application with optional pole brackets, light fixture and control. Complete with pre-configured solar power assembly.