Hybrid Solar Wind LED Street Light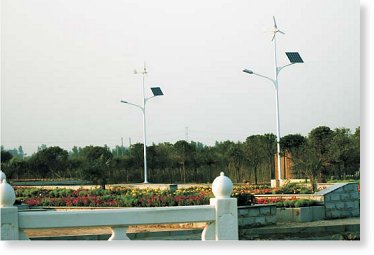 Solar-Wind hybrid streetlight is an intelligent, small scale and off-grid LED street light system. Composed of solar modules and the LSFD400 wind turbine, PV deep cycle batteries, controller and a LED streetlight, this hybrid streetlight takes solar/wind as energy source and utilizes the energy for the lighting automatically during the night. The whole system is virtually maintenance free and there are NO daily running costs totally off-grid, totally free.

Off the grid!

No ugly over-head lines.


Low maintenance design.

Quick installation.
Specifications

Controller Included

Model
Wind Turbine/ Solar panel
with brackets
Battery
Light Source
SD06-02
400W/2*65Wp
12V 80Ah*2
45W LED / 2800L
SD06-03
400W/2*65Wp
12V 100Ah*2
60W LED / 3400L
SD06-04
800W/2*85Wp
12V 150Ah*2
80W LED / 4800L
• Pole not included
• Customer OEM design is welcome
• Sample is available for quality test
Item Number: LTLED-HybridSW

Unit of Issue: Unit

Price: Quoted
Advantages and Benefits
24V charge/discharge system improves system reliability with a lower current and decreased wire loss compared to 12V systems.
MPPT (max power point tracking) technology increases charging efficiency by up to 30%.
Optimized PV gel battery features low self-discharge, consistency on deep discharge, long cyclic life and low floating charge voltage and current.
Automatic light modulation can be achieved by:

battery capacity monitor with automatic adjustment of output power to extend operation time.
end user presets to adjust light output for different times of night.