Features:
Aluminum heat sink.
No UV or RF interference.
Longer life than incandescent & fluorescents.
No mercury.
No ballast required.
Two wire installation.
Solid state, high shock & vibration resistant.
No noise, no flickering.
66%+ savings in energy consumption.
In accordance with CE, UL and FCC testing standards.
3 Year Warranty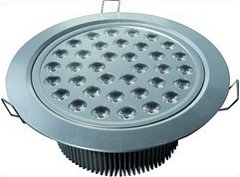 5.2" Dia. x 3" Depth
4.8" Ceiling Hole

See 9" Can
Applications: The 36W LED Can Light has been designed to replace existing ceiling can light installations, thereby reducing maintenance and energy expenditures - and as an energy saving light source for new fixtures and installations. 120° beam angle adjusts up to 30°. Dimmable feature allows a wide range of applications.

Hallway Lighting

Security Lighting

Retail Display

Hospitality

Residential lighting

Walk and Hallway
Specifications:
Base:
2 Wire
Beam Angle:
8|15|30|45|60°
LED Qty:
12pcs Edison SMD
Input Voltage:
100-240VAC
or 277VAC
Power(W):
36 Watts
Lumens:
WW=2800 | DW=3000
Color
Warm White
Daylight White
Y,R,G,B
Color Temperature
~ 2700-4800K | 5500-6000K
Replaces:
Can Type Ceiling Lamp