The ECO 9R-Amber was specifically designed as a retrofit kit for existing wall packs, parking areas and roadway fixtures where wildlife can be affected by outdoor lighting. The ECO-9RAmber produces a peak spectral output of 588 nanometers that falls within the optimal wave-length range for sea turtle friendly lighting (over 560 nanometers). Energy savings and environmentally friendly design and manufacture make this retrofit a triple dose of ecologically sound. 10+ years of maintenance free service in existing fixtures.
Saves up to 79% of energy consumption.
Long lifespan, over 100,000 hours. Little to no maintenance for 10 years.
Safe low heat light.
Environment friendly, no UV and infrared, no mercury.
No light pollution with directional light.
Does not attract insects.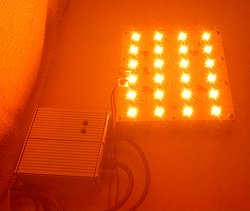 Made in the USA using Cree LEDs
Applications: The Eco-$mart Turtle light retrofit is Wildlife Lighting Approved when installed in a wildlife friendly fixture and used to meet minimal lighting standards. It has wide applications due to its retrofit capabilities:

Landscaping

Service Stations

Clubs

Stores

Hotels

Restaurants

Gyms

Airports

Office Buildings

Factories
Technical Specifications: Specifications & Approvals PDF
Item:
ECO-R9-Amber
Power:
59 Watts
Base:
Retrofit any
Size (inches):
Varied
Voltage:
90-277VAC
Lumens:
2950
Nanometers:
585-595
Beam Angle:
125°
Approvals:
UL Listed, CSA, Wildlife Lighting Approved
Replace:
Any HID Fixture