Recycled Rubber Flooring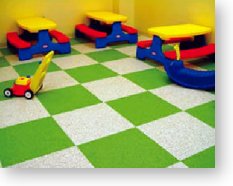 For the environmentally conscious, green designers and specifiers, ECOsurface rubber flooring is one of the most environmentally friendly flooring options for indoor and outdoor applications. It is made from 100% post-consumer SBR tire rubber and 30% post-industrial EPDM. The manufacturing process has a low impact on the environment.
ECOsurface rubber flooring is very versatile and easy to install. With many stylish custom colors, and available in roll or tile, ECOsurface rubber flooring is the perfect choice for your application.
The unique composition and inherent properties of ECOsurface rubber flooring make it exceptionally durable, resilient, and resistant to scuff, scratch and indentation. In addition, the resilient surface finishes provide slip-resistant, stain-resistant and easy installation and maintenance.
Item Number: FL-ECO-

Unit of Issue: Sq. Ft.

Price: Quoted
Over 70 color styles!




Click on the links to view details.

ECO-Earth
ECO-Nights
ECO-Rocks
ECO-Sand
ECO-Sports
ECO-Stone
ECO-Silence

Shhhhh!


Quieting underlayment
ECOmax Modular Tiles
Made From Recycled Rubber
Indoor & Out
Wet or dry