« Renewable Source Carpet »
Wool and Grass Carpet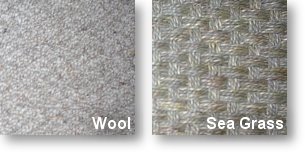 All natural woven wool carpeting in a variety of styles. Wool carpeting is the standard by which all carpets are judged. Easy to clean, maintains its beauty and lustre for a lifetieme. Prices from $ to $ per square foot. Available as area rugs and with custom designs.
Sea Grass and Mountain Grass Carpet is durable and cushion backed for comfort. It's natural beauty and environmentally friendly manufacturing from a renewable source make it a very good choice for those who require the best for themselves and the Earth.
Bio-Floor - 100% Natural Carpet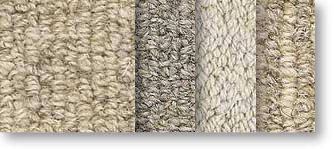 Item Number:
FLCarpet-Wool
FLCarpet-Grass
Unit of Issue: Square Foot
Prices: Quoted
5 Wool Styles and
2 Grass Styles
Item Number:
FLCarpet-EarthWeave
FLCarpet-WoolPad
Unit of Issue: Square Foot
Prices: Quoted
4 Styles and
Natural Wool Padding
Click on the picture.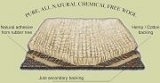 This is a carpet unlike any other produced in North America. First of all it is COMPLETELY biodegradable. Obviously, this is achieved through the use of only 100% natural raw materials. The Bio-Floor line is made with a face fiber of 100% natural wool. 100% Natural Pigments and Bonding Agents, no harsh chemicals or dyes of any kind. All of these elements add up to make a product that is beautiful to look at yet sacrifices nothing in the way of our commitment to indoor air quality and the environment.
The illustration on the right shows our manufacturing technique and exactly what makes Bio-Floor the only truly nontoxic, all natural carpet made in North America. The Bio-Floor line is used extensively by those suffering from chemical sensitivity as well as those that are concerned about the environment. We have gone to great lengths to design a product that meets the demands of these clients yet sacrifices nothing in the way of styling, comfort and durability. Read More>>>