«Back Strand Woven Bamboo Flooring Next»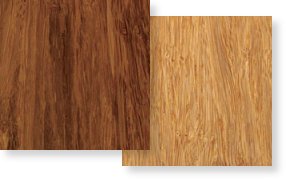 Strand Woven Bamboo Flooring is hot pressed strand woven hardwood bamboo flooring. It is harder and more durable than hard wood or any traditional flooring. The hot press process of this consolidated bamboo flooring achieves higher density and rigidity than even traditional strand woven bamboo flooring. The entire process and its product has met or exceeded the most rigorous E1 Standard of European Quality and Environmental Protection.
Item Number:
FLBamb-StrandWoven

Unit of Issue:
Square Foot

Price: Quoted
This is a green product, manufactured with renewable source materials and no poisonous materials. Combined with its mold and mildew resistance and pest resistance, it is the perfect choice for healthy homes and buildings. Low VOC and reduced off-gassing make it ideal for remodeling, even in occupied space applications. This woven-strand bamboo flooring is also water and fire resistant. The high density surface is scratch and scuff resistant.
Strand Woven Bamboo Flooring can be cut and laminated using conventional equipment and adhesives, and will sand and finish like other hardwood flooring and sheet good products.
Why is this Bamboo Flooring so Eco-$mart?

Manufactured from a renewable source with no toxic chemicals or processes.

Hard surface, extraordinarily wear-proof. Looks like new after years of use.

Anti-friction and anti-scratch. Solid enough to bear prolonged pressure without denting.

Can be used on outdoor covered decks and wet environments such as bathrooms.

High-density water and fire resistant surface.

Stain and corrosion resistant surface is easy to clean and maintain.

Healthy and harmless with low-VOC and no hazardous chemicals.

Simple and clean installation, perfect for new construction or remodeling.