Eco-WPC Decking and Landscape Material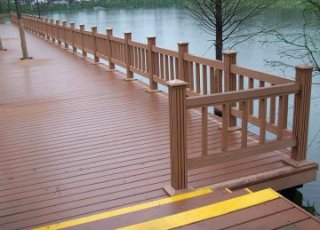 Eco-WPC, Eco-$mart's Wood Plastic Composite, is a new type of green landscape material made from recycled plastic and FSC Certified waste wood materials that would be burned or added to landfill. Using a patented process, Eco-WPC is waterproof and moisture proof. Its water absorbtion measures only parts per thousand (0.2%) while natural timber can absorb up to 100%. With anti-UV and antioxidant treatment, Eco-WPC will last 10 times longer than wood.
Eco-WPC is offered in many colors and grains that will not wear or fade. It can be worked with using the same tools and hardware as wood. Decking is only a small part of the extensive possibilities for the applications fitted to eco-WPC.
Item Number:
DK-Eco-WPC

Price: Quoted
Typical Textures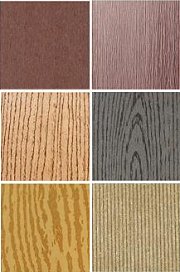 | | |
| --- | --- |
| No Fade Through Colors | See Eco-WPC Overview PDF for more information, texture and color details, and example products. |
| | |
| --- | --- |
| | Amazing Application Possibilities |