eMonitor Commerical Energy Management Solution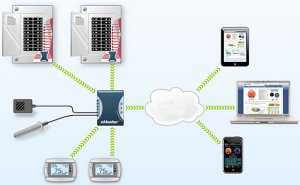 Item Number: BC-eM-C

Unit of Issue: System

Price: Quoted
More Information
Coming Soon
-----
Simple, Scalable, Wireless
Finally, a cost-effective energy management system for business that provides circuit-by-circuit electricity consumption detail enabling informed decision-making on how and when to cut energy costs. Effectively monitor all energy use and know exactly where your energy dollars are going. Compare facilities to see why some are more efficient than others. Control HVAC systems for maximum efficiency. Visually compare energy use from one day to another. Be alerted to potential equipment problems before they cause expensive down time and costly repair.
Save Money

Monitors ALL electricity consumption

Pinpoints major cost contributors with granular information

Benchmarks facilities – down to the equipment level

Manage Your Assets

Proactively alerts on cost and equipment performance

Renewable Energy Monitoring

Control Your Equipment

Controls HVAC - the largest energy cost via computer or phone. Eliminate thermostat lock-boxes and staff disagreements.

Replicate "Best Practices" across your facilities & eliminate "Worst Practices" in energy consumption.


Compare energy cost performance between facilities by building, campus, region. Analyze per square foot and by functional area.