Spin-X Pre-Dryer Water Remover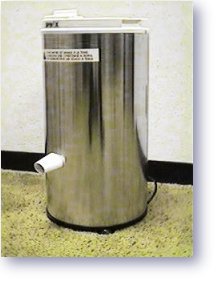 Item Number: ESADRY-SpinX
Unit of Issue: EACH
Eco-$mart Price: Quoted
Quote
More Information

Overview PDF
-----
This spin dryer has a speed of 3,300 RPM, and will save you more than half the drying time by removing 50% or more of the water and soap deposits left in your clothes by your washing machine. Safe on gentle fabrics and knits.
The SPIN-X Spindryer operates on regular 120 Volt 60 Mz connection. It can be connected to any 3 plug wall socket (third plug is the ground). Some of the older homes only use the 2 plug wall socket. There are adapters, but we do not recommend using them. The unit uses 8 amps for start-up, and within 25 seconds is using only 5 amps. for the duration of the operation. At full speed, it pulls approximately 1,469 G's, which removes the majority of the soap and mineral deposits.
Less Time and Energy! Cleaner Clothes!
Removes detergent and harmful cleaning agents
from the wash.
Customers experience less skin irritation
and fewer allergic reactions to soap and detergent.
Reduces drying time by 1/2 of hard to dry items, like blue jeans and towels.
Reduced Drying Time creates less heat for the Air Conditioner to cool.
Spindryer Size: 13 1/2" dia. X 25" high.
Capacity: 10 lbs. wet load
(2 king size sheets, 2 large king size pillow cases,
1 bath towel, 2 hand towels)
Spins at 3,300 R.P.M., and produces 1,469 G's of force.
Connects to any household wall outlet, 110 volt.