Energy Recovery Ventilators
Introducing the Next Generation
of High Efficiency Energy Recovery Ventilators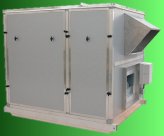 Commercial ERV Systems


Lower energy bills and create a healthier fresh air environment for building occupants. From Small Light Industrial To Large Scale Commercial, we have an ERV Solution To Meet Your Needs.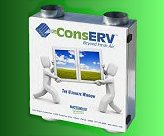 Residential ERV Systems


Save money while providing a continuous stream of filtered fresh air into your home without the disadvantages of opening doors and windows.


Why use an ERV?

Reduces energy costs and CO2 emissions. Excellent return on investment.


Saves capital costs. Reduces required AC size and load.


No moving parts. A continuous stream of incoming fresh air is created using exhaust air.


Low maintenance. Simple periodic filter cleaning and replacement is all that is required.


Improves Indoor Air Quality. An EPA study shows an ERV lowers triggers for allergies, asthma & mold.


No condensation pan. Air is treated in its vapor state before it has a chance to create damp conditions that encourage mold and mildew.


An ERV is required by code in many states (ASHRAE & IBC).


Qualifies for local Utility rebates in many areas.


Qualifies for LEED points.