Eco-Gen MW Back Up Power Fuel Cell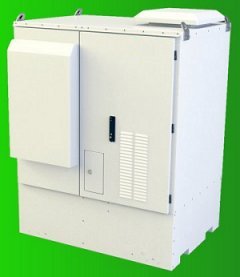 Item: FC-Eco-Gen-MW
Eco-$mart Price: Quoted
Wireless Base Stations

Secure Communications Networks (TETRA)

Wireline Remote Terminals

Broadband

Telecom Rooftop Installation
The Eco-Gen MW System is an extended run backup power fuel cell system, available in 2.5 kW and 5 kW configurations. The system includes a fuel reformer that converts methanol and water liquid fuel into hydrogen gas to power the fuel cell system.
The Eco-Gen MW System is designed for high reliability, long autonomy and minimal maintenance. Operating on HydroPlus, methanol and water liquid fuel, the Eco-Gen MW generates its own hydrogen, onsite and on demand, eliminating the need for delivery and storage of hydrogen, providing power for the long run.
ADVANTAGES:
Extended Run Options – Backup power for days, not hours. Onsite and On-Demand Hydrogen Production – Eliminates delivery, handling, and storage of bottled hydrogen. Advanced Technology – Utilizes commercially proven Proton Exchange Membrane (PEM) technology. Reliable System – Dependable performance over a wide range of temperatures. Scalable Systems – Up to 15 kW power output. Low Maintenance – Lower life cycle costs compared to higher maintenance diesel and propane generators. Clean Technology – Significantly lower environmental impact than both generators and batteries.
Specifications
Power Rating:
• 2.5 kW • 5 kW
Nominal Voltage:
• 24 Vdc • 48 Vdc
Voltage Adjustable 23 to 28 Vdc, 46 to 56 Vdc
Run Time
(Standard 59 Gal Tank):
• 100 Hours @ 2 kW Output Power
• 40 Hours @ 5 kW Output Power
Dimensions ( WxDxH ):
1.35 x 1.15 x 1.76 m (53 x 45 x 69 in)
Footprint ( WxD )
1.32 x 0.85 m (52 x 34 in)
Enclosure Material
Aluminum
Weight:
295 kg (650 lbs)
Certifications:
CE and ANSI / CSA FC-1