Our fences weather much better than products made from cedar. Tam Vong is particularly weather resistant as it has such thick walls. If left unfinished, the bamboo will eventually turn to a silver-grey color. This is perfectly acceptable and does not affect the quality of the bamboo. Many people find it a very desirable look.
If you want to maintain the natural and original color of the bamboo, it will be necessary to apply an outdoor finish after a year or two. New, unsanded poles have such a high concentration of silica in the skin that they are naturally protected from the elements. The skin does not allow good penetration of finish, so it is necessary to wait a year or two to apply an exterior finish. The fence must be cleaned thoroughly before applying the finish.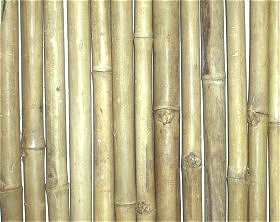 Naturally colors may vary. Colors may also vary with screen and printer configurations.