Basic Home Water Conservation Kit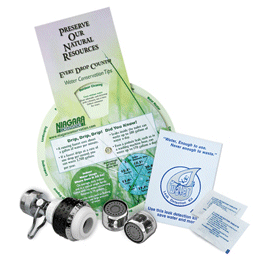 Item Number: XSWC1

Unit of Issue: EA

Price: Quoted
We are proud to offer
eco-friendly products in environmentally sound packaging made from recycled paperboard and soy-based inks.
The Eco-$mart Basic Home Water Conservation Kit is a perfect way to implement conservation solutions throughout the home. Each EcoKit™ includes a variety of our topselling, easy-to-install water and energy-conserving products. Each EcoKit™ also includes helpful, everyday tips for water and energy conservation. They make wonderful promotional tools for your business and can also serve as educational tools to help children understand the importance of saving energy and water with simple but effective ways to do so.
Annual Utility Bill Savings: Electric Water Heater - $118, Gas Water Heater - $85
Includes a variety of topselling water conservation products
Proven effective in reducing water consumption
Serve as a great promotional items, housewarming gifts, or educational tools
Basic Water Saving Kit Includes:
1.5 GPM dual spray kitchen swivel aerator
(2) 1.0 GPM bathroom aerators
Leak detection tablets
Water conservation wheel