Thermco® Block Fill Insulation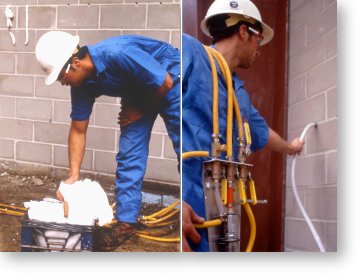 Item Number: IN-TFI
Unit of Issue: Cubic Feet
Price: Quoted
There's a revolution going on in the construction industry. Architects, engineers, spec-writers and building owners throughout the country are calling for THERMCOŽ Foamed in Place Insulation. Contractors and builders are gladly switching to THERMCOŽ as they realize higher performance, lower costs, and ease of installation.

Adds R-10 Insulation to block.


Adds 4 hour fire rating.


Improves IAQ - fills air space in block wall.


Improves sound resistance.


Eliminates the need for rigid insulation on block wall.