«Back FSC Certified Teak Flooring Next»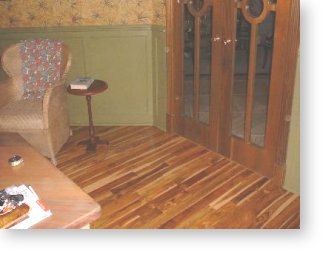 Superior hardness, over 1000 on the Janka hardness scale, low moisture retention and unmatched stability make teak the ideal material for wood flooring. Its rich grain and lasting beauty has made teak a highly sought after material for ship-building, furniture, and decorative trim. Until recently, the expense of this wood and the environmental impact of harvesting old teakwood forests has made the use of teak undesireable for many.
FSC Certified Teak Flooring is now available. Low impact environmentally, high impact when it comes to beauty, durability, and lasting value.
Item Number: FLTeak-

Unit of Issue: Square Foot

Price: Quoted
Display Stand with Samples


Click Here

The FSC Logo identifies products which contain wood from well managed forests certified in accordance with the rules of the Forest Stewardship Council. Click Here for Details
Almendro is an extremely durable wood, plantation grown in Costa Rica. The flooring is an engineered product, combining an Almendro top layer with a substrate of FSC certified, plantation grown Teak.
Finishes and Colors
Colors may vary with screen configuration. See your dealer for samples.

Almendro - Natural

Natural Teak

Brown Teak

Honey Teak

Red Teak