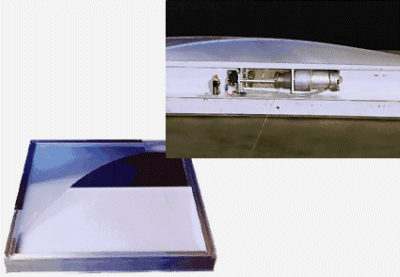 The Daylighting Dimmer is a motorized shade built directly into the skylight frame. It allows room brightness control with the turn of a three-position, wall mounted dial. The shade control allows the skylight to be darkened or completely "turned off" by adjusting the exposure of the skylight opening to day light.

The frame of the shade unit is made of 6063-T5 aluminum with a minimum thickness of .093 inches and has mitered, hellarc-welded, watertight comers.

The screen material is made of UV-protected vinyl and weighs no less than 12 oz. per square yard.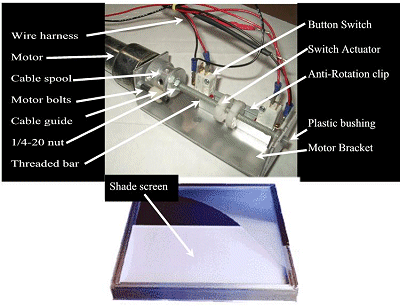 The drive assembly is a 12-volt, DC gear motor. The system wiring is 16-gauge, 2-conductor stranded wire with PVC jacket. If fire protection is required, then Teflon-coated 16-2 is used. The transformer is 115/120-volt AC to 12-volt DC.