Bamboo Worktop - Strand-woven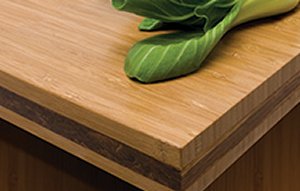 Strand worktops, made with proprietary technology, are extremely durable, 154% harder than red oak. These worktops are ideal for any application where traditional hardwood surfaces might be used-table tops, desk tops, and other residential or commercial installations.
Features:


Unfinished


Formaldehyde Free Manufacture (ISO 14001-certified)


Strand face with vertical grain core


29% harder than North American Hard Maple and 45% harder than Northern Red Oak
Specifications:


Colors: Wheat, Chestnut


Dimensions: 36" x 72" X 1-1/2"
LEED V3:


MR 6: Rapidly Renewable Materials


IEQ 4.4 Low-Emitting Materials–Composite Wood and Agrifiber Products
Item: CT-EBWT-SW*
Price: Quoted